Medical
Glimakra of Sweden is a leading furniture manufacturer of screening products, for offices and public spaces. Following the demand and wishes from several of our customers, we have now adapted several products in our range, to the healthcare environment. In other words, the products have a long history in our range, which makes them reliable and durable.
In our Medical range we offer proven products that are specially adapted for healthcare. The products are flexible, easy to clean and mobile and are also produced in our own factories in Sweden, with the highest regard to quality and environmental factors.
With Glimakra Medical we offer flexible, wipeable, easy-to-install floor screens, fixed and mobile wall systems as well as stand-alone modules in various sizes for temporary hospitals, but also for traditional hospitals, care centers, nursing homes, nursing homes, crisis centers, etc.
The medical assortment is produced in rational factories in Sweden, with short delivery times and safe delivery flows of materials.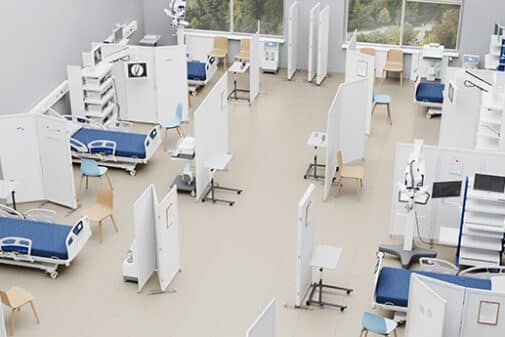 Viking Medical
Viking Medical is a mobile foldable floor screen with wipeable surfaces. It suits perfectly as temporary screening between beds in a hospital ward, or wherever you need temporary screening. The rubber castors make it very easy to move, and the foldable floor screen takes very little space when it is not used. Viking Medical also works as a double-sided whiteboard, were it´s possible to write texts on either side of the foldable screen. Read more about Viking Medical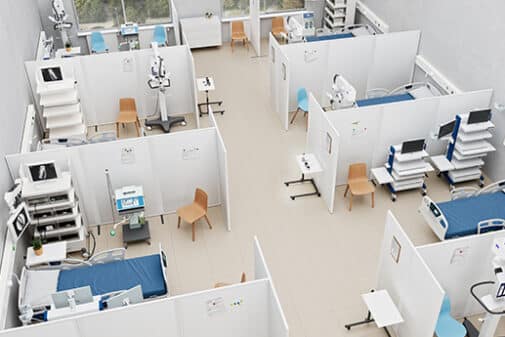 Europo Medical
Europo Medical is a flexible floor screen system, developed specifically for hospitals and other health care facilities. The stable floor screens are connected through connection strips in different executions, and it is therefore possible to build in almost endless setups. Europo Medical floor screens has a quick coupling system, which makes it easy to mantle and to dismantle. Read more about Europo Medical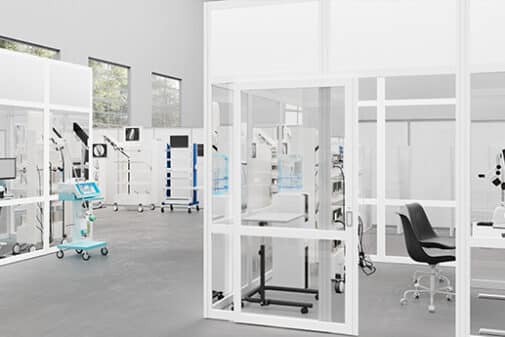 EuropoRoom Medical
EuropoRoom Medical is flexible, wipeable room-building partitions with wooden frame. The system can be freestanding, or wall mounted and can be height-adjusted to ceilings from 2070 to 2700 mm. The walls are wipeable and made of either HPL laminate or hardened glass. The widths can be adjusted for exact building dimensions and with sliding doors lockable rooms can be created. EuropoRoom Medical is available in a number of standard modules, but can be customized to your wishes. The screen walls have quick couplings that are joined together with coupling posts making it very easy to assemble and disassemble.
Read more about EuropoRoom Medical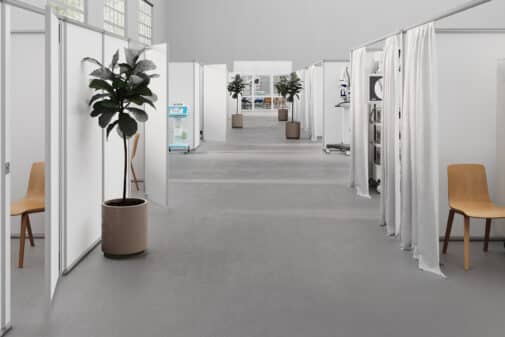 Space Medical Wallsystems
Space Medical is a robust wallsystem from which you can easily build walls and "room in the room", which should be temporary or permanent. It is easy to create bed halls, private rooms, changing rooms, treatment rooms or toilets and showers. Space Medical's flexible wallsystems can advantageously be placed in, for example, exhibition halls, hospitals, gymnasiums or sports facilities. The wallsystem does not need to be anchored to neither floor, wall nor ceiling. The flexible system makes it possible to build with doors, screens, drapery rails and openings, wherever you want.
The Space Medical wallsystem is tight to the floor, but is also available with 150 mm "air gap" between the floor and the screen wall, if desired. The system is made up of compact laminate which provides very good hygiene for the hospital environment, and is very easy to wipe off and withstand proper water flushing during cleaning. The very robust and durable compact laminate walls are set up with an aluminum profile system and the mounting is both easy and quick to complete.
Read more about Space Medical Wallsystems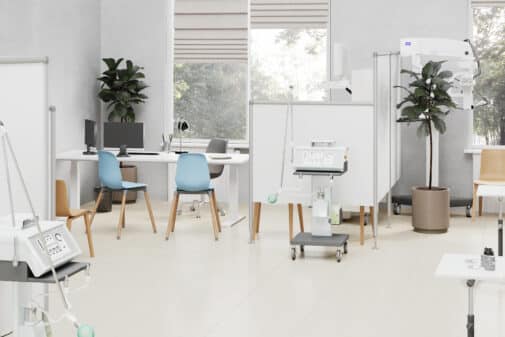 Space Medical Fixed Screen
Space Medical Fixed screen wall, is a robust screen wall developed for places where more permanent shielding is desired. You always start from a wall and from there it is easy to build straight walls, L-shaped walls, T-shaped walls, angle walls, in short you can create your own shielded walls however you want. The fixed screens are designed for screenings between, for example, beds in nursing rooms / nursing rooms, changing rooms, treatment rooms or meeting rooms.
Our fixed screens are available in three standard heights and three standard widths that you can combine anyway, we also offer special solutions. The walls are made of compact laminate which provides good hygiene for the hospital environment, and is very easy to wipe off and withstand proper water flushing during cleaning. The very robust and durable compact laminate walls are set up with an aluminum profile system and the mounting is both easy and quick to complete.
Read more about Space Medical Fixed screen